Urban Sun
10 Sep 2022
—
11 Sep
, Erasmusbrug | Rotterdam
Back to Solar Installations
The Solar Biennale is proud to announce a partner program with Urban Sun by Studio Roosegaarde. Urban Sun is made by designer Daan Roosegaarde and his team, in collaboration with CityLab010 & Rotterdam Festivals. The installation is a striking demonstration of how design creates more attractive public spaces while unleashing the power of light. Urban Sun will be activited during the opening weekend September 10 and September 11 from 9pm to 11pm.
Urban Sun is an innovative design installation that can reduce the presence of the coronavirus in public spaces using a safe, new far-UVC 222 nanometer light. During the opening weekend of The Solar Biennale, Urban Sun will be on display in Rotterdam at the foot of the iconic Erasmus Bridge. For two evenings it will form the spectacular backdrop of a program of spoken word, dance and conversations under its extraordinary light. At a time when we must learn to deal with global crises, Urban Sun is presented internationally as a new symbol of hope.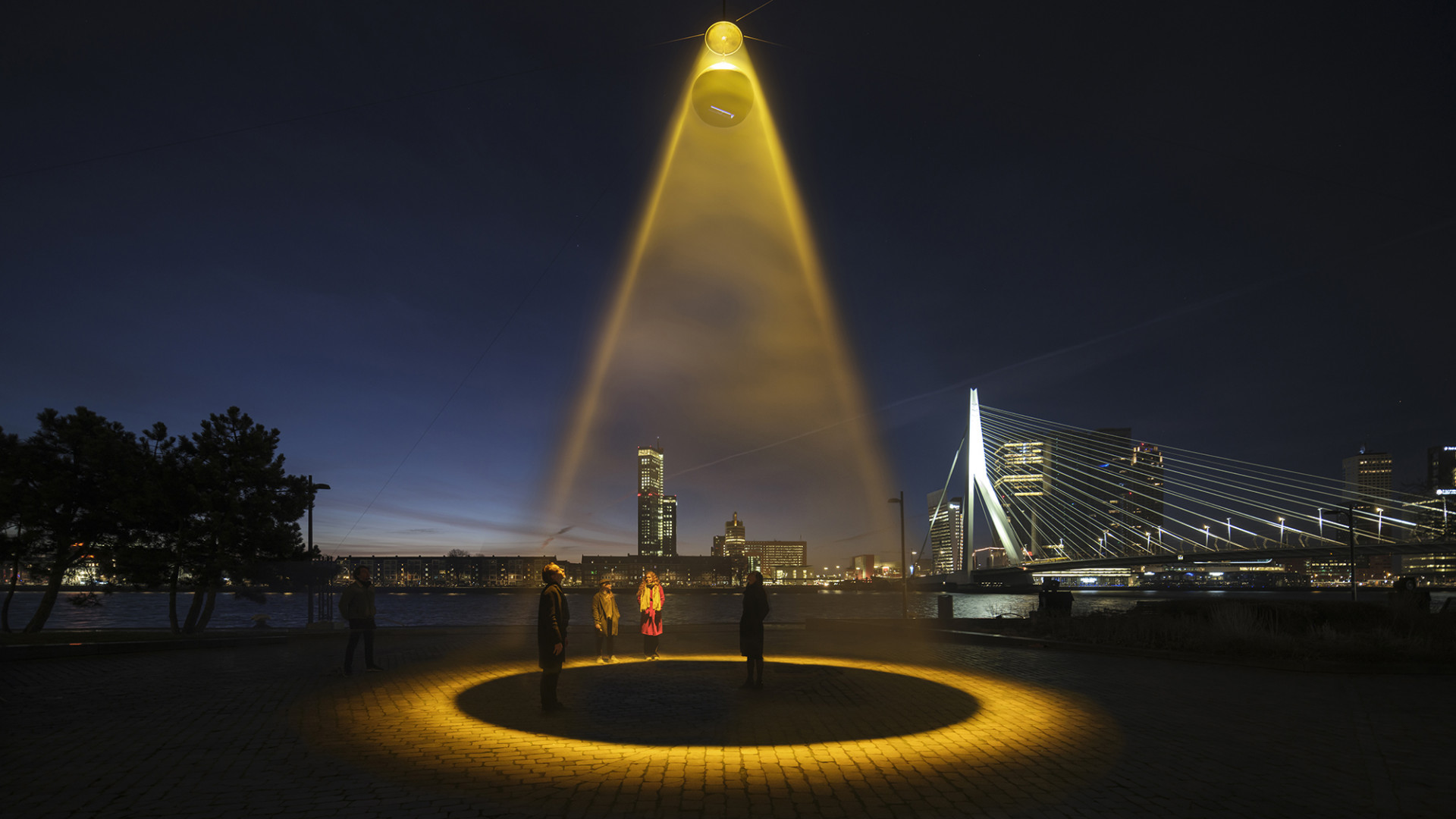 Sunscape

To get into the right atmosphere with the Sunscape, a composition inspired by the sun, by Emiel van den Dungen.

21:00 Urban Sun on - Welcome and Intro

The light of the Urban Sun is switched on, kicking off the program. Why are we here tonight?

21:08 Interview with Daan Roosegaarde, Marjan van Aubel and Pauline van Dongen

21:15 A musical performance by Neila Moon.

Singer/SongwriterNeila Moon(Jazz/R&B) takes you on a musical journey inspired by the sun. The song is composed especially for The Solar Biennale.

21:25 Inspired by the Sun, by art curator Matylda Kzrykowski

21:35 A performance by Silke

Hoolahoop performer Silke reflects on her relationship with the sun through her performance created especially for The Solar Biennale.

21:50 Neila Moon returns

Singer/songwriter Neila Moon returns for a second performance.

22:10 A dance performance by Krump dancer Brui5er

Krump dancer and choreographer Brui5er blows you away with his interpretation of the sun through motion. The performance is created especially for The Solar Biennale.

22:20 Wrap Up

23:00 Urban Sun out

The light of the Urban Sun is switched off.
The program Urban Sun X The Solar Biennale takes place between 21:00-23:00 on 10 and 11 September. On both evenings the program is accessible without registration or ticket.
Address: De Boeg, Boompjeskade
The program is a collaboration with (Museum)ParX, Tim Wes and André Marques of TogetherDedicated.